Renewables - marine electrification
A complete marine electrification supply chain
Renewables – marine electrification
SH Group contributes to more sustainable shipping by offering turnkey marine electrification solutions for ships and ports. We specialise in battery hybrid propulsion solutions, shore power systems for vessels of any size, and batteries and fuel cells in class type approved shipping containers.
We know that operating requirements vary widely between various ships, ports, and assignments. There is no one-size-fits-all solution in the marine sector, and we work with you to define and develop the solution that suits you. With SH Group, you get a complete marine electrification supply chain from one source – one call does it all.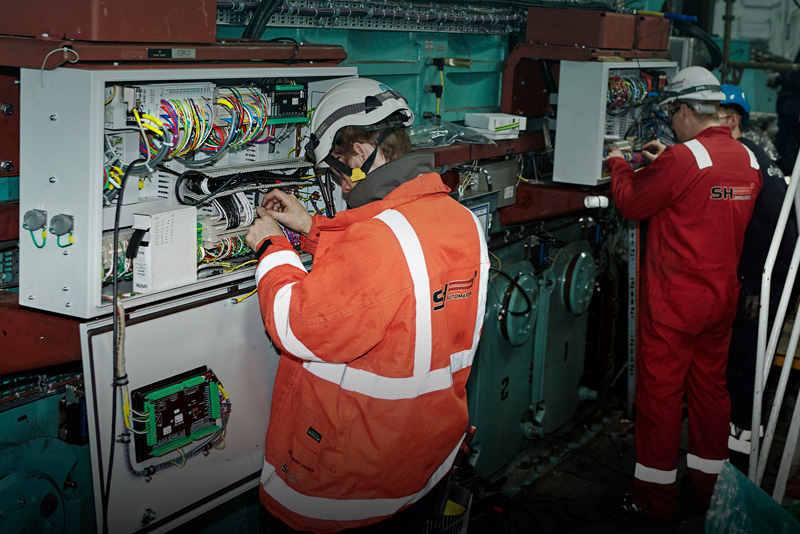 Electrical services – maintenance and modification
With a strong support base and skilled personnel, SH Group provides inspection, troubleshooting and repair on all types of electrical installations and equipment as well as design, engineering and supervision during new building, conversions or extensions – world-wide.
Turnkey retrofit ship electrification solution
With our Eship™ solutions, we help you reach your operational and environmental targets through a turnkey retrofit solution that upgrades your ship for full or partial electric operation in line with your requirements.
Our Eship™ solution is the fast track to ship electrification. We take responsibility for all aspects of your project through four main stages: identification, design,  installation, deployment.
From shore power to entire battery operation and everything in between, we develop and deliver the solution you need.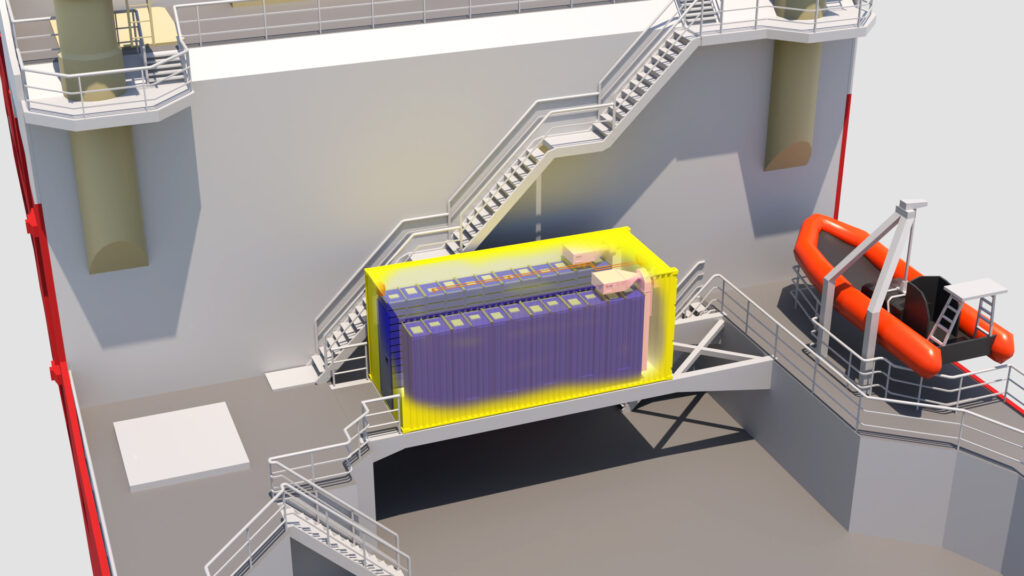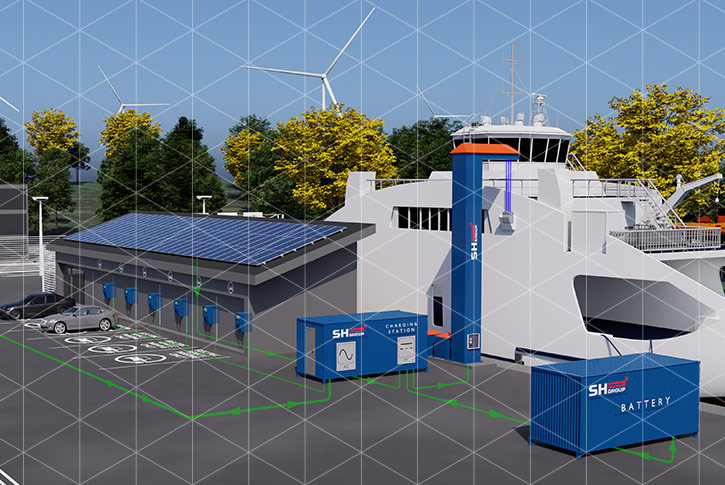 Ferry charging
A ferry charging solution provides the required power in a convenient, stationary OPS solution that can be specified to deliver the required voltage and can be delivered to suit any vessel size. Connecting and disconnecting the charging cables is faster and more convenient with a charging tower.
Our Shore Power™ containerised OPS can be specified to deliver the voltage required for even large vessels. The built-in flexibility of the solution makes it ideal for minor ports or ports where flexibility and ease of deployment are paramount.
Stationary charging towers with permanent grid connections can be sized to any vessel. Charging cables can be connected and disconnected quickly and conveniently.
Containerised battery and fuel cell solutions
A shortcut to emission reductions on board
With our containerised battery and fuel cell solutions, you can reap the benefits of electrification in a solution that is easier to install and redeploy as needed. Power sources are sized to your requirements and mounted in class-type approved containers.
We partner with leading battery and fuel cell vendors to design a class-approved solution that fulfils your requirements, whether you are looking to use peak shaving, charge your onboard systems from a shore connection, or any other marine electrification application.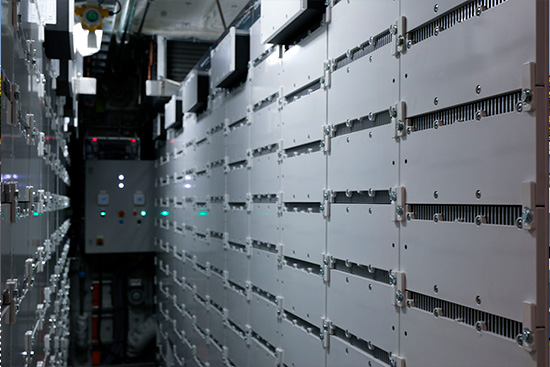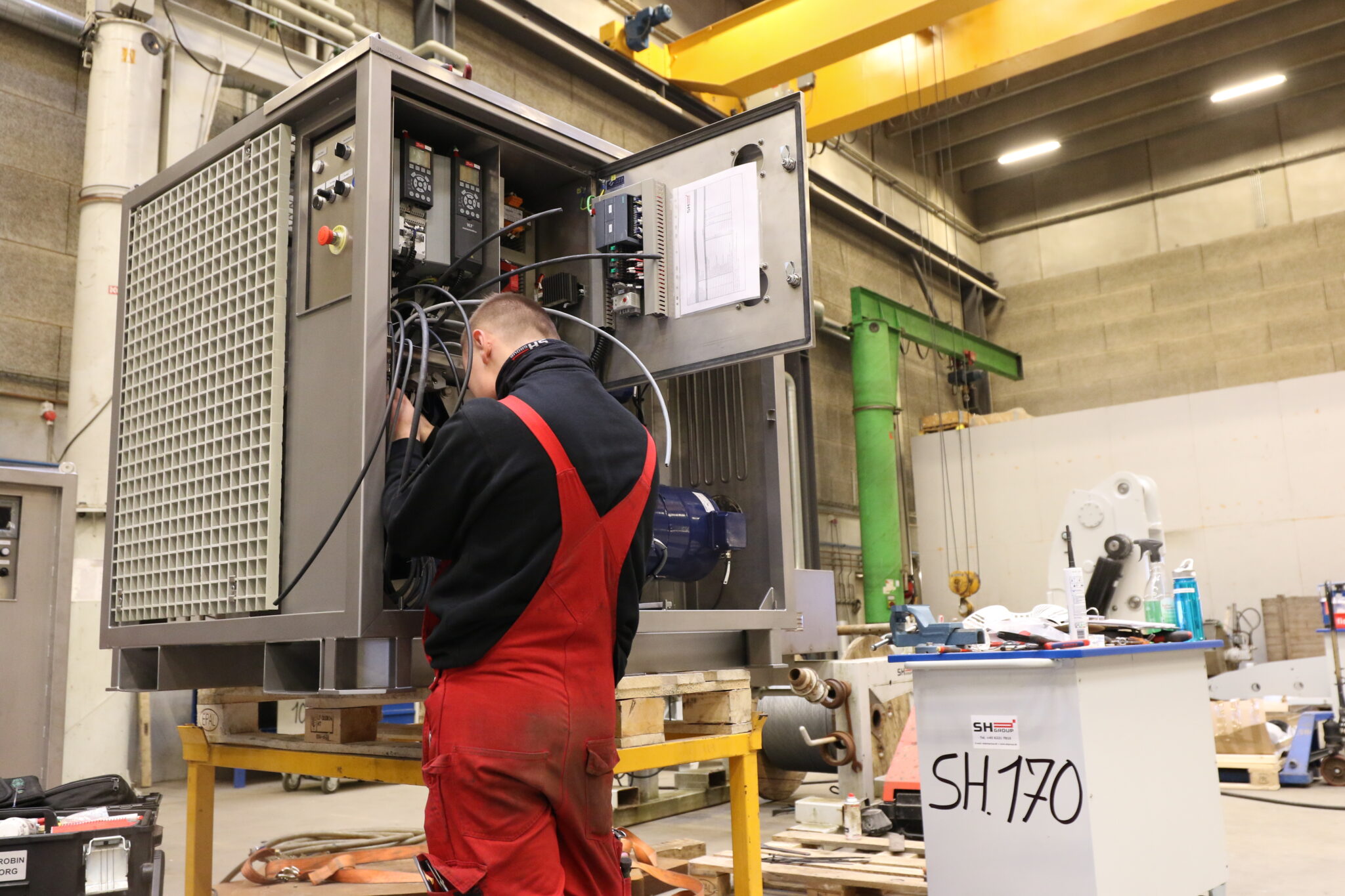 Ensuring optimal operation
Our professional service staff help you ensure that your marine electrification solution runs as it should, giving you uninterrupted, efficient and climate-friendly operation and helping you reach your targets.
SH Group covers all areas within mechanics, hydraulics, electrics, and automation. We are a certified service partner for Corvus Energy and Danfoss. And we have a vast network of collaboration partners that help us provide timely and efficient service for your installation.
From inspection and troubleshooting to repair and optimisation, SH Group is your competent full-service partner. You do not need to coordinate with several service providers when you do business with us. One call does it all.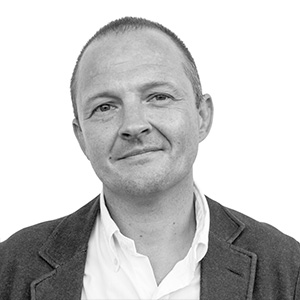 Let's get in touch
Flemming Slumstrup
Head of Electrics and Automation
Tel: +45 2176 7010
Mail: fsl@shgroup.dk