Fehmarn Belt - Service and Production
Help at Fehmarn Belt is just one call away
SH Group is a large and multiple service and equipment provider
Need help at Fehmarn Belt? Our solutions help move people and equipment deep below the waterline, across waters and borders, and above the ground. We make things move. We master steel, mechanics, hydraulic and advanced automation solutions and are often present when highly demanding engineering projects are realised.
Facts about SH Group
Customised solutions in steel, hydraulic, mechanical, and electrical engineering
Large, competent, and resourceful organisation
350+ employees
One point of contact
Multidisciplinary service provider
Fehmarn Belt / Rødby – Office address
SH Group
Gamle Badevej 2A
4970 Rødby
Tel.: +45 2249 8965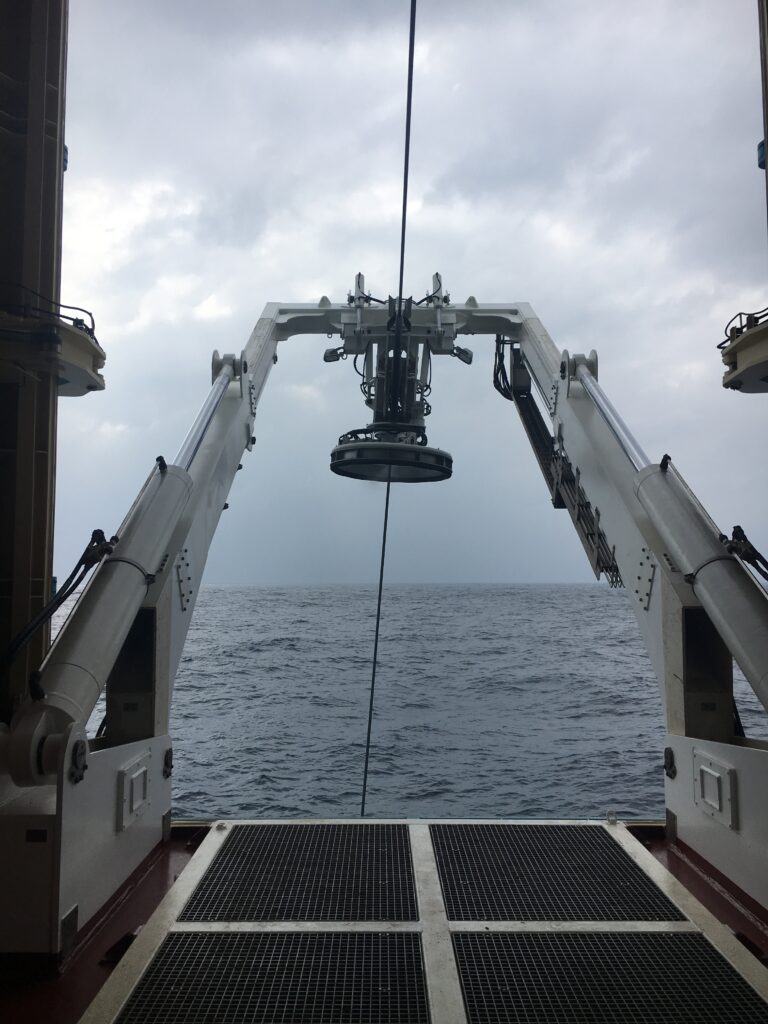 Your local partner at Fehmarn Belt
The construction of the Fehmarnbelt Tunnel is well underway and steadily approaching the 2029 deadline. While involving numerous foreign and local contractors operating at sea and ashore, technical challenges are an inevitable part of the work progress at each state. This creates a demand for production and manpower support.
With SH Group, you are ready to meet this demand. We are an engineering company with newly established facilities and a technically highly qualified support team, and we specialise in steel, hydraulic, mechanical, and electrical engineering.
Help at sea and ashore
"We provide customised solutions and take care of all service aspects like maintenance, modifications, overhaul, testing and installation on machinery and equipment on cranes, dredging vessels, production plants etc. Logistically we are used to operating both ashore and at sea above and deep below the waterline," explains Klaus Rasmussen, Site Manager Rødbyhavn.
"Some Fehmarn Belt contractors, especially foreign, may lack the resources to manage projects involving different professional groups. Based on hundreds of projects, we have developed strong recruiting, managing, and cooperation skills with various subcontractors needed for a specific project. We are currently building strong relationships with qualified local businesses to leverage large projects for companies working at the Fehmarn Belt construction site".
One call does it all
When needing urgent technical support, a customised solution or help to launch a specific project, the "lifeline" is just one call away. SH Group operates by the principle of "One-call-does-it-all" to ensure that companies in need get help quickly and easily.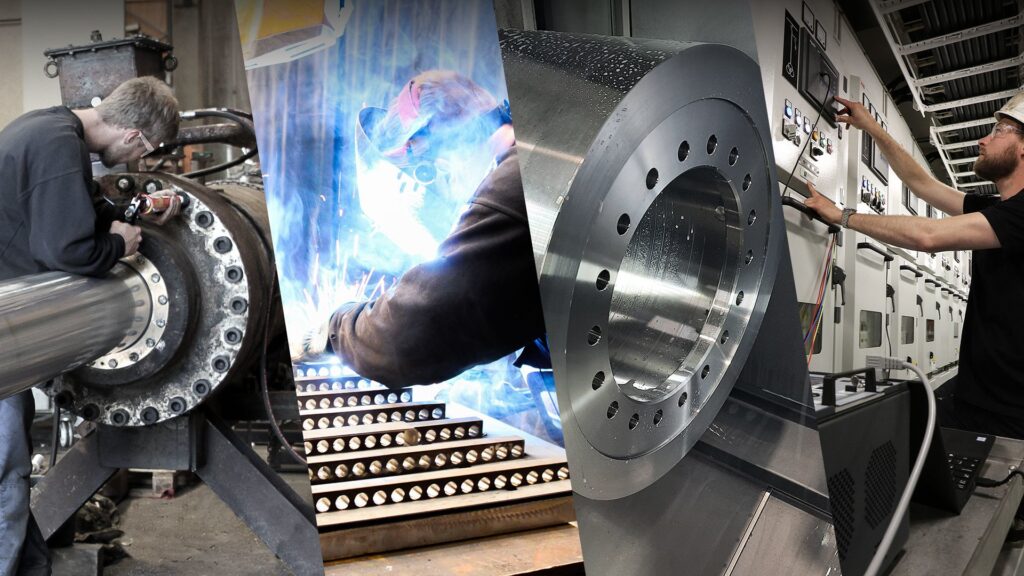 Hydraulic service and engineering
Service of hydraulic power packs and systems
Installation and fabrication of hydraulic equipment, valves, piping, hoses.
Pressure testing and flushing of hydraulic systems.
Electrical and diesel-powered flush unit. Mobile particle counter and mobile flushing unit.
Troubleshooting and repairs of hydraulic systems.
Pipe installations up to 115×15 mm on-site.
Bending and pipe modification.
Hose management – fabrication, pressure testing and replacement.
Service of hydraulic power packs and systems, components overhaul of pumps, motors, valves, cylinders etc.
Upgrade of existing hydraulic equipment and systems.
Hydraulic supplier of hydraulic power packs, components, spare parts, HPU etc.
Certified hydraulic engineers and fitters perform all hydraulic work.
SH Group has two well-equipped mobile 20 feet hose fabrication containers for production and service on-site. The sizeable in-house stock of pumps, valves, hoses, fittings, and connectors with a short delivery time.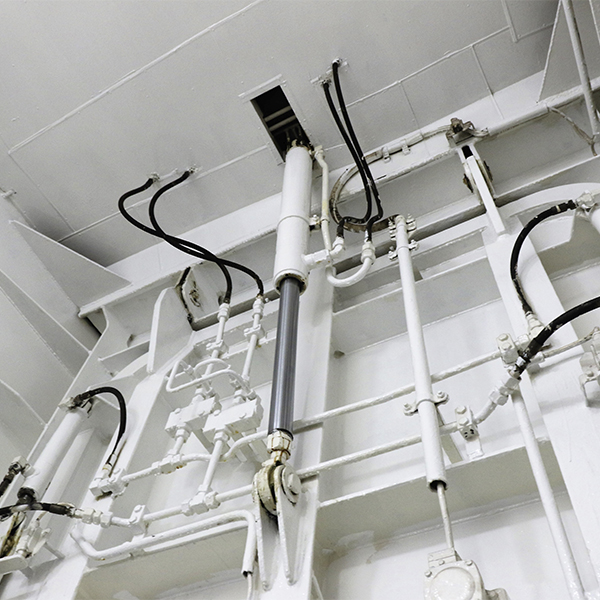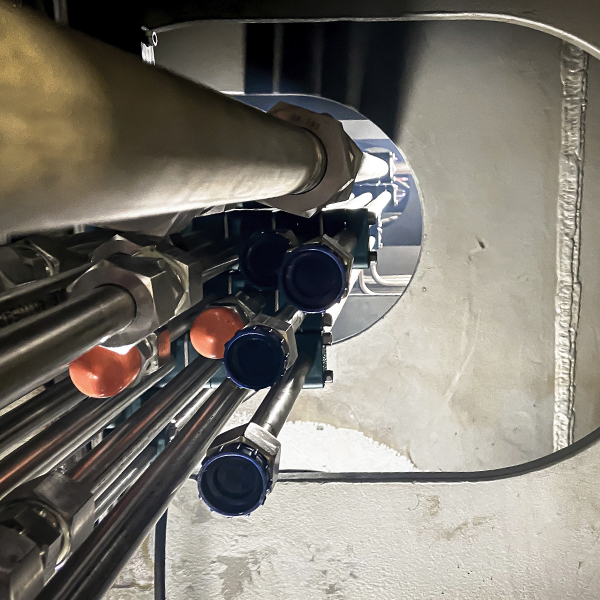 Pipe manufacturing and mounting
Pipe prefabrication
Bending from Ø6 mm to Ø115×15 in workshop and on-site.
Pipe-end forming.
Flaring/grooving/walforming.
Pressure testing and flushing.
Coating.
3D draft to prefabrication.
Pipe installation
Design and installation of new pipe systems.
Renovation and modification of existing pipe systems.
Delivery and installation of carbon, chromised, acid proof or stainless-steel hydraulic piping.
SH Group plan, design and install systems from minor to major projects for various types of equipment worldwide. We can meet all required standards and take care of 3rd party classification.
Stainless and carbon steel seamless pipes
< Ø42 mm walform or EO2 form is preferred.
> Ø42 mm 37° flare or retain ring flange systems.
Steel construction
At SH Group, are specialised in custom-designed steel construction. We take pride in creating the best solution for our customers. We guarantee our steel constructions are not a piece of metal from an assembly line.
Our highly skilled engineers can design and fabricate minor and major steel constructions. Nothing is too small or too big – our engineers have created specialised spare parts down to a size of a penny and specialised designed steel containers, marine and offshore cranes, including hanging cranes, steel bars and steel supports etc.
Welding
SH Group delivers welds in aluminium, black steel, carbon steel, stainless steel 304 + 316, duplex steel and CuNiFe, including WPQR (in-house certified IVS). We deliver NDT testing services on components and all materials (also on-site).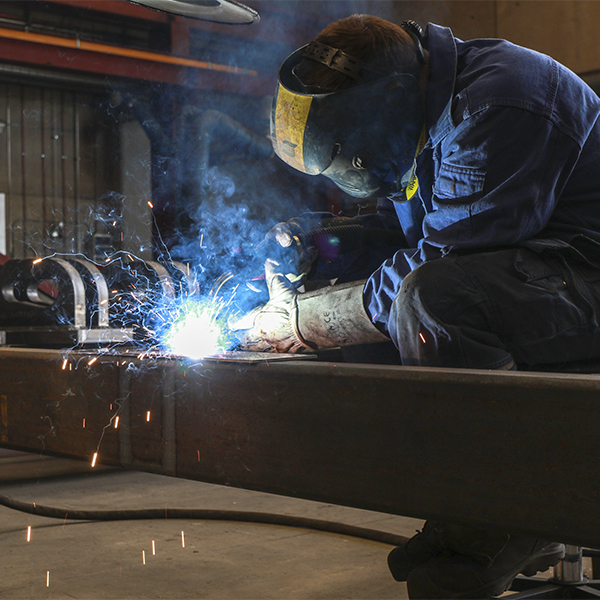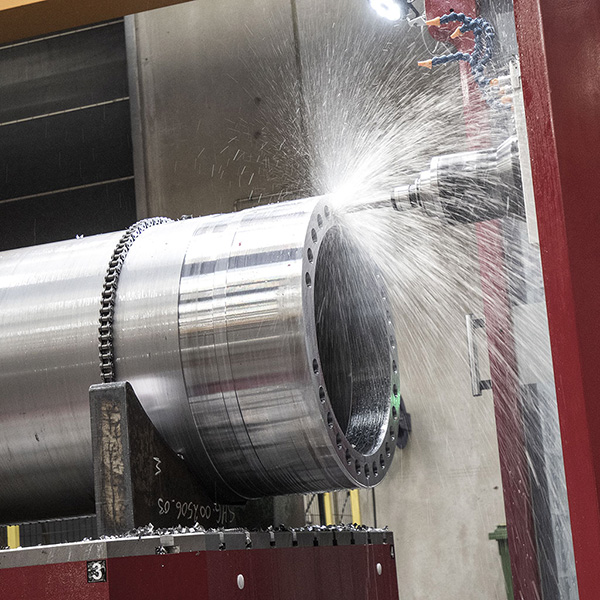 Mechanical service
All kinds of repairs, rebuild modifications, upgrades etc.
Workforce
Worldwide service and stationing.
Maintenance, conversion, adaption, repairs, modification.
Check of yard performance.
Maker commissioning (Sepro™ Technology, E-ship™, the Cube™).
Equipment protection and preservation.
Qualified teams of any size to any assignment.
In-house tools
FERMAT WFT 13 CNC – horizontal/vertical milling machine.
TOS Varnsdorf WHN 110 – horizontal milling machine.
MAZAK Integrex J400 – multitask turning / milling machine.
2 x MAZAK VTC-300C-II – vertical milling machine.
MAZAK Quick Turn, NEXUS 350-II M – CNC lathe/milling machine.
Heavy-duty lathe – ø2700×4500 mm.
Lathe length up to 24 m.
Lifting capacity 200T.
On-site workshop container
SH Group can offer an installation of an on-site workshop container. With the installation of a workshop container, tools and spare parts will be available on-site. Thus, there will be cost savings regarding mobilisation and demobilisation.
Overall savings
Saving in mobilisation on most repairs.
Faster response on urgent repairs (lower downtime).
Two welding machines available on site (typical rent cost of 700,- dkk pr. machine pr. day).
Frequently used spare parts available (pipes, fittings, steel profile etc.).
Possibilities for combining multiple jobs.
Will reduce travel and mobilisation expenses.
Mobilisation time
Reduction of mobilisation and demobilisation time on most jobs.
Spares and tools available on-site (in case of urgent service, our engineers can respond quickly and go to the needed repair location without packing and preparation from main workshop facilities due to tools, equipment, and spares available in on-site workshop containers).
Availability of tools
Tools are available on a larger scale and ready on-site.
Welding equipment, pipe bending machine, drilling, grinding, lifting appliances, hydraulic jacks etc.
The most frequently used spares (fittings, piping, steel profiles) are available.
Spare-parts warehouse/storage of most frequently used spare parts and materials. (Steel profiles, hydraulic fittings and piping in various sizes, other frequently used parts, and materials).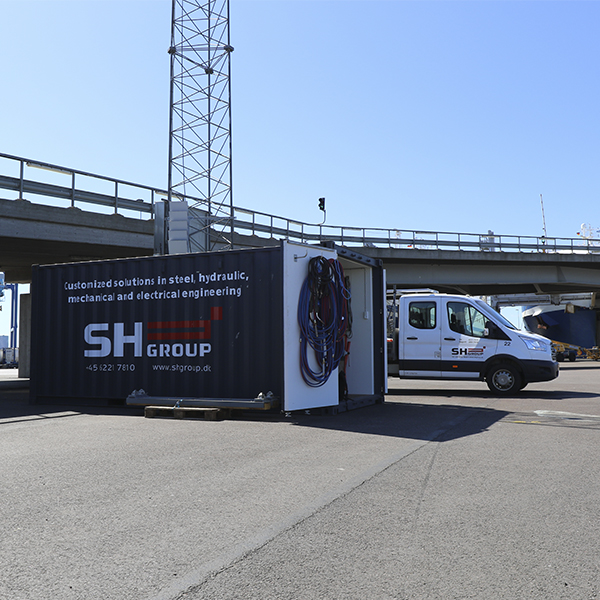 Production and Manpower Support → Femern Belt